Canmore SkiO Ski-Orienteering
January 1st 2014 1:00pm
Course Maps
Spicy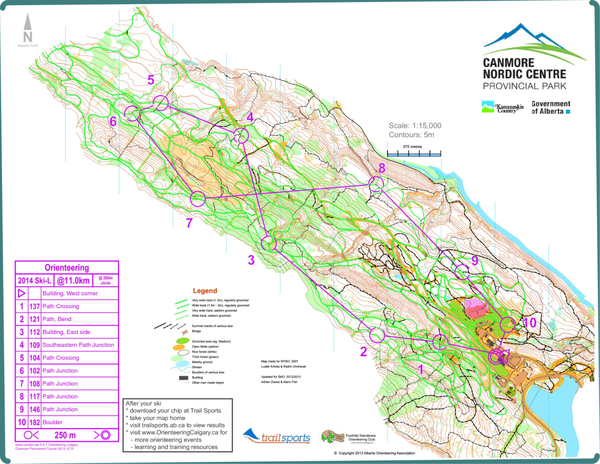 Medium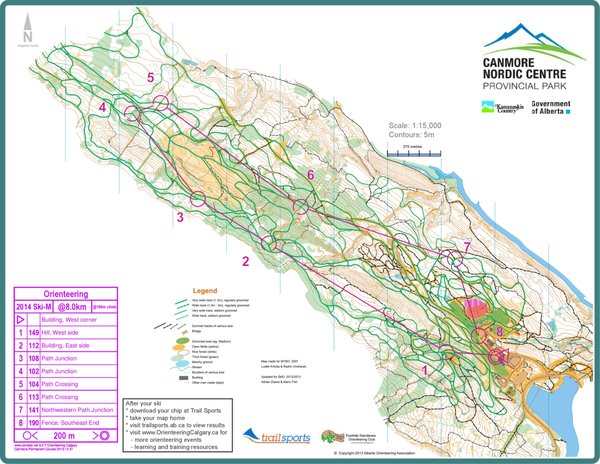 Mild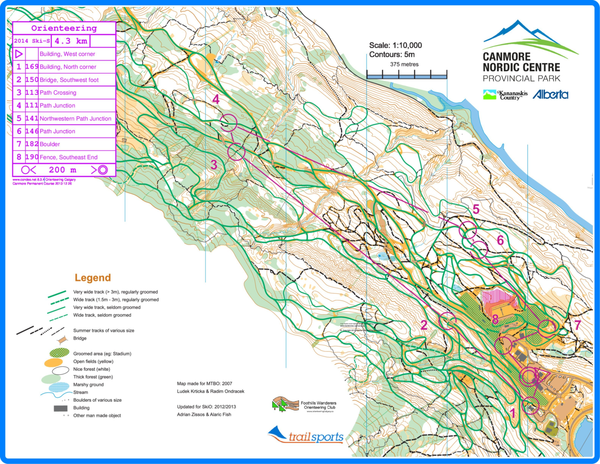 Organizer: Adrian Zissos (Course Planner)
New Year's Day Ski Orienteering
COURSES:
HOT TAMALE - this is Spicy followed by Medium
SPICY - 11km skiing (approx)
MEDIUM - 8km skiing (approx)
MILD - 6km skiing (approx)
Start the year on the right foot - a day in the mountains, enjoying the natural beauty of the Bow Valley forests and mountain peaks while working off a bit of holiday indulgence and enjoying the company of good people.
Ski orienteering:
Three courses offered: Spicy, Medium, Mild
Start times - 1pm - 1:30pm. Self-assigned start times.
Course closing: 3pm
Cost: $5/adult, $2/junior (under 20) - nominal fee to cover cost of map printing
Trail pass: you will also have to purchase a trail pass at the Day Lodge
Parking: tons of parking at the Canmore Nordic Centre
Facilities: toilets, snack bar, fireplace, tables, chairs - all you could wish for in the Day Lodge
Please sign up online for one of the courses offered. You do this on the right of this screen (if you don't see the "Register" button under each course descriptoin you will need to login or to create a WhyJustRun account). Online registration - it saves me lots of time, lets me know how many maps to print, lets other people know who's coming, and also helps with car pooling.
How to hold your map
It is a little bit tricky to hold a map while you ski with poles. Here are some ideas, from cheap and useless to pricy and great, about how to hold your map.
How to hold your SI punch
This event uses electronic punching, so you will need to carry an SI stick with you. SI rental is included in the entry fee. Here are some tips on how to carry an SI punch so it doesn't fall off and so it is (relatively) easy to punch at the control.
Latest News
Dec 27: today I test-skied both the Spicy and the Medium courses for the New Years ski orienteering. A little bit tough, but nothing outrageous. Navigation is pretty good, thanks to recent map updates - it seems quite accurate to me. Some very complex route choices - some I have no idea what is the best route. Some off-trail routes are good, others are a big waste of time. All in all, a really fun course. So much so that I've created a new category - the Hot Tamale, which is the Spicy course (11km, 280m climb) followed by the Medium course (8km, 180m climb).
---
Location