Canmore RESULTS "Mines & Meadows" Fall Sprint Series
October 30th 2016 10:00am - 12:00pm
Course Maps
Black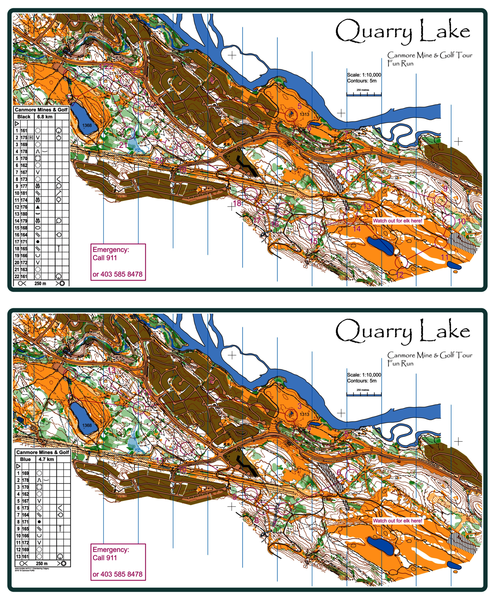 Organizer: Adrian Zissos (Event Director)
Map: Quarry Lake + CNC
Thanks for taking part!
It was a great day in Canmore for a fun run around the old mining grounds. Check out the photos at the bottom of the page.
Here is an interesting video about the history of development on the undermined lands - in other words, why there's an abandoned golf course in the middle of the mountains!
And here's a video about the history of mining in Canmore. Pretty amazing to contemplate the Canmore of old compared to the current Canmore.
Everyone is special, of course. But today we had a special guest. For those that weren't aware today's winner, Dave Schorah, ran for the Great Britain team in the 2015 World Champs in the Sprint Relay (finishing 9th on his leg, and 14th overall). He is visiting Calgary with the GBR short track speed skating team - he's their engineer, responsible for making the fastest possible blades! Cool.
---
This is a wonderful run from Quarry Lake, through some residential areas, past the entrance to the old coal mine, across an abandoned golf course, and through some fun orienteering terrain back to scenic Quarry Lake. Be cautious of elk and other animals that sometimes graze on the golf course - take your bear spray, make lots of noise, and be vigilant.
Be respectful of other park users. You will possibly encounter a number of other people - cyclists, hikers, picnickers, and all sorts. Be courteous.
There are outhouses at Quarry Lake.
Park at Quarry Lake parking lot and meet at the picnic area by the lake.
Who:
Open to FWOC club members (or members of another orienteering club). Sign-up online for a membership (valid to end 2017). Course suitable for intermediate and advanced orienteers (you can fairly easily complete the blue course on Wednesdays).
Cost:
Drop-in fee $10 for an adult or $5 for a youth 20yrs and under
Start time:
Mass start at about 10:20
Show up by 10:00 to register and get warmed up
Warnings:
Be careful of undermining - DO NOT go into any pits or deep depressions since they can be extremely dangerous.
Bear spray - We request that you run with bear spray for your safety and in case you should need to come to the assistance of other runners. There have been elk seen on the course (on the golf course especially) and they can become very aggressive.
Elk - There have been elk grazing on the course over the last couple of weeks. If you encounter elk be very careful. Give them a wide berth, have your bear spray ready, and be prepared to by-pass a few controls if necessary.
After:
Following control pickup we'll get together at The Bagel Co (on Main Street) for coffee and sandwich
---
Location