4th Event Fall Sprint Series - SAIT Riley Park Fall Sprint Series
October 15th 2017 10:00am - 12:00pm
Course Maps
Intermediate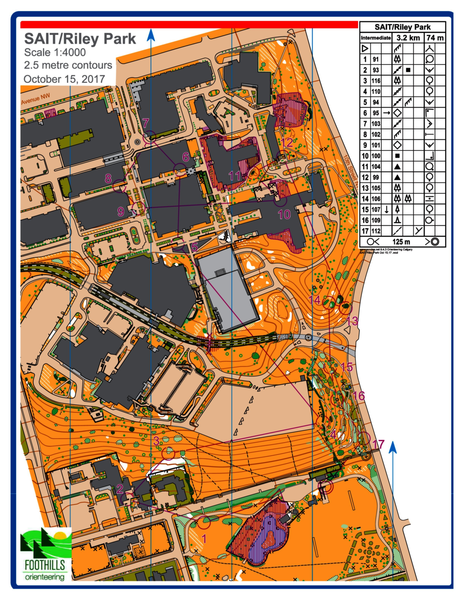 Advanced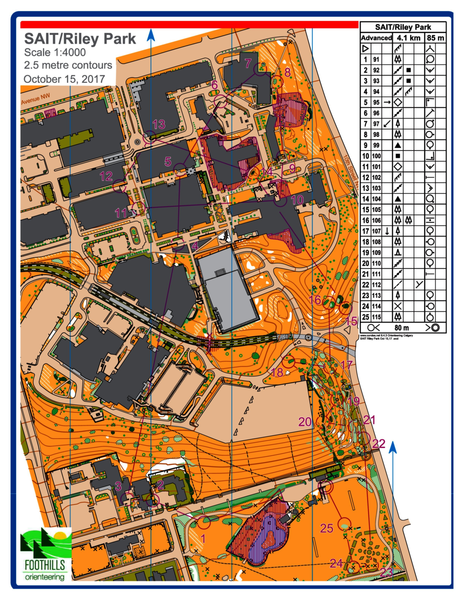 Organizers: Damian Konotopetz (Event Director), David Roberts (Event Director), Clarence Kort (Event Director)
Map: SAIT / Riley Park
What a great day, beautiful weather and a great course designed by Damian(who also shadowed one of our SOGO runners). 38 runners weaved there way around the SAIT campus and Riley Park. We had lots of help today, Teresa, and Oleg on registration, Clarence on setup and shutdown, as well as shadowing a Participaction 150 group(4 racers) who have tried nearly 70 sports including orienteering today. Sterling site take down and helping out some beginner orienteers , David C and Mauricio timing. Lyle, Mauricio, and David C control pickup. If I missed anyone I am very sorry.
The results are now posted, as well as the maps. David Roberts is setting up Route Gadget (Thank you) and the link will be up soon for all of us to analyse our route choices.
Remember were always looking for new volunteers for our events. We are also actively seeking new board members for 2018, if you want to know more please reach out to anyone on the current board.
See you next week at Pearce Estates, Thanx for running
Events Committee
4th Event Fall Sprint Series every Sunday
Come out and run an intermediate or advanced course on our finest urban maps. All courses will have timed controls.
Meet in the parking lot on the North side of Riley Park by the water park/ cricket fields.
Please register ASAP as maps will be printed on the Friday before the race.
Pricing
$10.00/map/ event regular
$5.00/map/event under 20
Free for SOGO Level 3 participants
All participants are required to volunteer for at least one race each for registration, timing, and control pick up. Click here to volunteer. If you volunteer, you still can race guaranteed. Thank you for your support.
All participants must have a FWOC club membership Get it online for $15.00 before the event and your first event map is included. Membership will expire at end of 2017 Fall Sprint Series.
Events Committee
---
Location