5th Event Fall Sprint Series - Pearce Estates Fall Sprint Series
October 22nd 2017 10:00am - 12:00pm
Course Maps
Intermediate
Advanced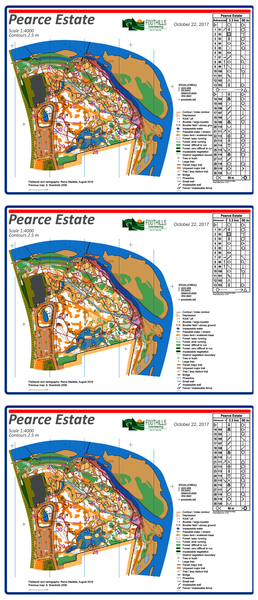 Organizers: Damian Konotopetz (Event Director), Clarence Kort (Event Director), David Roberts (Event Director)
Map: Pearce Estate
Thank you everyone for coming out today almost 50 people weaved their way through Pearce Estates Park on a beautiful fall day. It felt like a maze at time, an I understand a few people even had wet feet. Thank you to Robin M, Dan C and Bogi for helping out with registration, Mauricio, Stirling, Don M, and Michael S, flag cleanup, Ben M and Don M for site cleanup and take down,
Next event:
I (Bob) will be away next week, however Bogi has agreed to take on the event next week. David Roberts is our expert Course Planner, hopefully on a new map just being completed by Michael Svoboda. If you are enjoying the fall courses, please remember to volunteer for our events, it only takes a little bit of time and you are guaranteed to run the course.

Events Committee.
5th Event Fall Sprint Series every Sunday
Come out and run an intermediate or advanced course on our finest urban maps. All courses will have timed controls.
Please register ASAP as maps will be printed on the Friday before the race.
Park in the main parking lot at Pearce Estate Park see map below.
Pricing
$10.00/map/ event regular
$5.00/map/event under 20
Free for SOGO Level 3 participants
Starts from 10am to 11:30am
Courses close at 12pm
All participants are required to volunteer for at least one race each for registration, timing, and control pick up. Click below to volunteer. If you volunteer, you still can race guaranteed. Thank you for your support.
Sunday Fall Sprint Series Volunteer
All participants must have a FWOC club membership Get it online for $15.00 before the event and your first event map is included. Membership will expire at end of 2017 Fall Sprint Series.
Events Committee
---
Location