RESULTS! Beaver Lake Forest B Central Event Forest
June 9th 2018 10:00am - 3:00pm
Organizers: Bob MacDonald (Event Director), Karen Martino (Course Planner), Marion O (Controller), Don Riddle (Assistant)
Beaver Lake June 9, 2018
Thank you
The organizers of the Beaver Lake B Meet would like to thank the many people who pitched in to make this event a success! We couldn't have done it without you all! From helping with courses, fixing the orientation of the map, loading of equipment, digging/setting up the porta-potty, registration, First Aid/Safety, Timing help, start line help and of course control pick up, your assistance did not go un-noticed! We hope you enjoyed taking part in this event. We the organizers certainly enjoyed setting it up!
CARPOOLING SAT AM - TIME CORRECTION!!!(read the time to get there from Edmonton instead of Calgary :( ) Email [email protected] to arrange to be a driver or a passenger. Drivers let me know how many passengers you can take. We will meet at Deerfoot Mall north east end of parking lot to organize and leave vehicles at 8 am and leave by 8:15am. If you need a ride to Deerfoot Mall let me know and maybe we can do pick ups along the way. Looking forward to Sat!!!!
Update June 6, 2018: Meet organizers recommend that adults carry bear spray while out on course. While the organizers did not encounter any bears while field checking the area, bears have been spotted on the map in the past. Note that due to the remoteness of the area, bears in his region are less habituated to humans and tend to move away quickly at the sight or scent of humans. Information about what to do if a bear is encountered and how to proper use bear spray can be found at the Government of Alberta, Bear Smart website: http://aep.alberta.ca/recreation-public-use/albert...

Update June 3/18: Course Planners were on site today for the final site checks before next Saturdays event! Everything is set and ready to go. It is a beautiful area for orienteering and even the drive is nice. The long range forecast is looking good so it looks like it will be a "sunny day"! We hope people will come out for the day and enjoy the hard work that the course planners have put into this event. Sign up by noon on Thurs. so we know how many maps to print!
Course Planners Notes: The Beaver Lake Map is a nice mix of runnable forest with rolling hills, small marshes and ponds and several cut lines and open cut block areas. Don't be fooled, the cut lines are tricky to see due to some over growth of vegetation and there are many areas where these cut lines intersect. Be aware that it is easy to head off on the wrong cut line, so use your compass to ensure you are heading in the right direction!!! The open cut blocks are not "flat fields", but are filled with contour features, so be vigilant with your navigation in these areas, they can be tricky! Many of the marshes are presently "ponds", so if you plan to cross marshes, you will get wet. Both deer and elk were spotted on the map in several areas during field checks. This is "tick season" and there are lots of areas of long grasses, so make sure you check for ticks after your race. Also....there are plenty of mosquitoes, especially around the marsh areas so bring your bug spray! No bears were sighted but it is recommended that you do carry bear spray. While much of the map is marked as "white, runnable forest", we have to caution you that there are nasty areas of dead fall and the older dead fall is hard to see under the longer grasses. Please use caution when moving through the forest. There will be a water stop on course 3, 4 and 5. Parking will be available in a square cut-block area at the end of the dirt access road off RR 61. Please note that there is a well site in the middle of this cut block and parking near the well site is prohibited. We will be setting out pin flags to mark the "no parking zone". The registration table will be near the finish area. The walk to the start is only 5 min from the car park area. There will be a porta-potty present at the site as there are no toilet facilities near by. Best to stop in Sundre or Caroline if needed!

Beaver Lake is located in west central Alberta south of Caroline.

Along with several regional events, the Beaver Lake map has hosted the North American Championships(1990) and a pre-event for the World Masters Orienteering Championships(2005) organized by Barebones.

The rolling hills, runnable forest and subtle contour features make Beaver Lake ideal for orienteering. We have not held an event on the Beaver Lake Map for several years now, so we hope you will take this opportunity to come out and check out this interesting area of Central Alberta!
Please check back on this website after June 3 as organizers will have updated event info. and course planners notes after their site visit this coming weekend!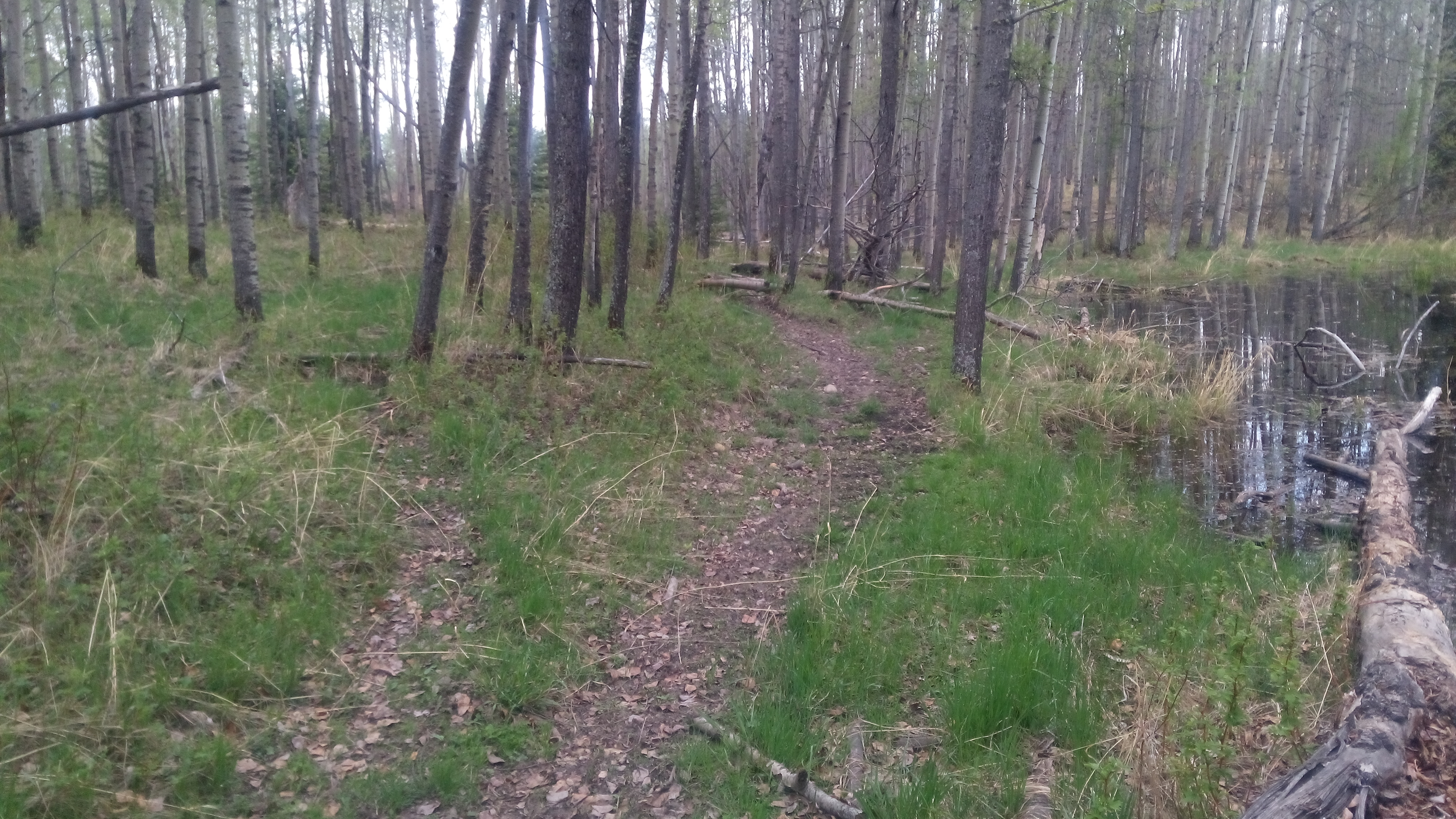 All participants must be a member of an Orienteering club affiliated with Orienteering Canada. Club membership for FWOC, can be purchased in advance from the link below.

Membership:

All participants must have a 2018 Membership. You can Buy one online before the event
Adult Membership (Born 1997 or earlier): $20
Youth Membership (Born 1998 to 2011): $5
Child (Born 2012 or later): FREE with the purchase of an Adult Membership.
*FWOC club membership includes membership in the Alberta Orienteering Association (AOA).
Event Pricing:
Adults $20
Juniors (20 and under) $10
Families $50 max.
SOGO athletes FREE
Please register online using the Zone 4 registration link above.
Note There will be no extra fees for Zone 4 processing.
On line registration will close at 12 pm noon June 7th.



Courses
Course 1 - Beginner
Short easy course (2.5km). Controls on distinct 'handrails' (eg trails) and at all decision points, or flagged in the correct direction. Suitable for kids and beginners.
Course 2- Novice
Longer and slightly more difficult than Course 1 (3.2km). Controls may be a short distance from the trail/handrail. Suitable for experienced kids and novice adults who want a shorter course.

Course 3 - Intermediate
Moderate length(3.6km) and difficulty. Suitable for experienced youth and intermediate level adults.
Course 4 - Short Advanced
Moderate length (5.5km) and advanced difficulty. Suitable for advanced SOGO 3 athletes and advanced adults
Course 5 - Advanced
Technically difficult longest course (8km).
**The start window will be from 10 am until 12 noon. There will be a 3 hour course limit. Course closing will be at 3 pm.
Volunteer

Please consider helping us with registration, timing starting,refreshments or control pick up. You don't need to be a veteran orienteer to help out! If you volunteer, you still can race, guaranteed.
To volunteer, please add your name to the Volunteer Sign Up Thank you for your support!
Directions:
From Edmonton it will take a little over 2.5 hours: Take Hwy 2 South to Red Deer. Exit west at Exit 401 onto Hwy 11 at Red Deer. After 22 km, turn left (south) onto Hwy 781 following the signs for Innsifail. in 44 km turn right (west) onto hwy 54 which takes you right into Caroline. From Caroline turn left onto 50 St heading south which becomes RR 61. Watch for "orienteering sign" on west side of RR 61 to access the parking and event location. .
From Calgary it will take a about 1 hour and 45 min.: Take Hwy 2 north from Calgary to Bowden. Take exit 357 heading west on Hwy 587. Continue west on Hwy 587 crossing Hwy 22 and after a short distance turn right onto Range Road 61 heading north. Watch for the "orienteering sign" on the west side of RR 61 to access the parking and event location. (Alternative Route would be to head north on hwy 22 from Cochrane, turn west and head through Sundre then north again on hwy 22 to hwy 587, left on hwy 587 to RR 61 and head north on RR 61.)

---
Location