"World Orienteering Day" - North Glenmore Park Wednesday Evening
May 23rd 2018 5:30pm - 8:00pm
Organizers: Karen Martino (Controller), Karen Martino (Event Director), Chandra Kuran (Assistant), Bogi Gyorfi (Course Planner)
Map: North Glenmore Park and Lakeview
World Orienteering Day Celebration

Come out for a fun afternoon with your family or friends to play, walk/run and don't get lost in the park!
We will have activities for all ages and abilities including games for kids, an introduction from "never-ever tried it" newbies to advanced runners.
When: March 23, Wednesday
Where: North Glenmore park parking lot (at the red marker below on the map)
Start between 5:30-7pm. Course closes at 8 pm. All activities will be in the park.
What to expect: we will have fun SOGO stations for kids and families. We will have orienteering activities planned from beginners to more advanced. You can try couple or all of the activities. You can do it alone or in groups, walking with a stroller or running fast. If you enjoy being outside try this fun event!
Wear proper athletic shoes, cover up from bugs (it's mosquito season) and bring your water bottle.
Bring a picnic dinner to eat at the park afterwards so you can meet and visit with other participants!
Special pricing for World Orienteering Day!

$2.00 includes a one-time, day membership (new members) + your map, please simply bring a toonie
Existing members $2.00 for your map, please pay at the registration desk.
SOGO Spring participants free
Membership

If you like this event, you can become a regular club member by buying a membership and season pass for events on line at the link below before your next event!

Volunteers are always welcome:

To volunteer, please add your name to the Volunteer SIgn-Up page. We could use help for control set up, registration, control pick up! Thank you for your support!
Please register here ASAP as maps will be printed on the Tuesday before the race.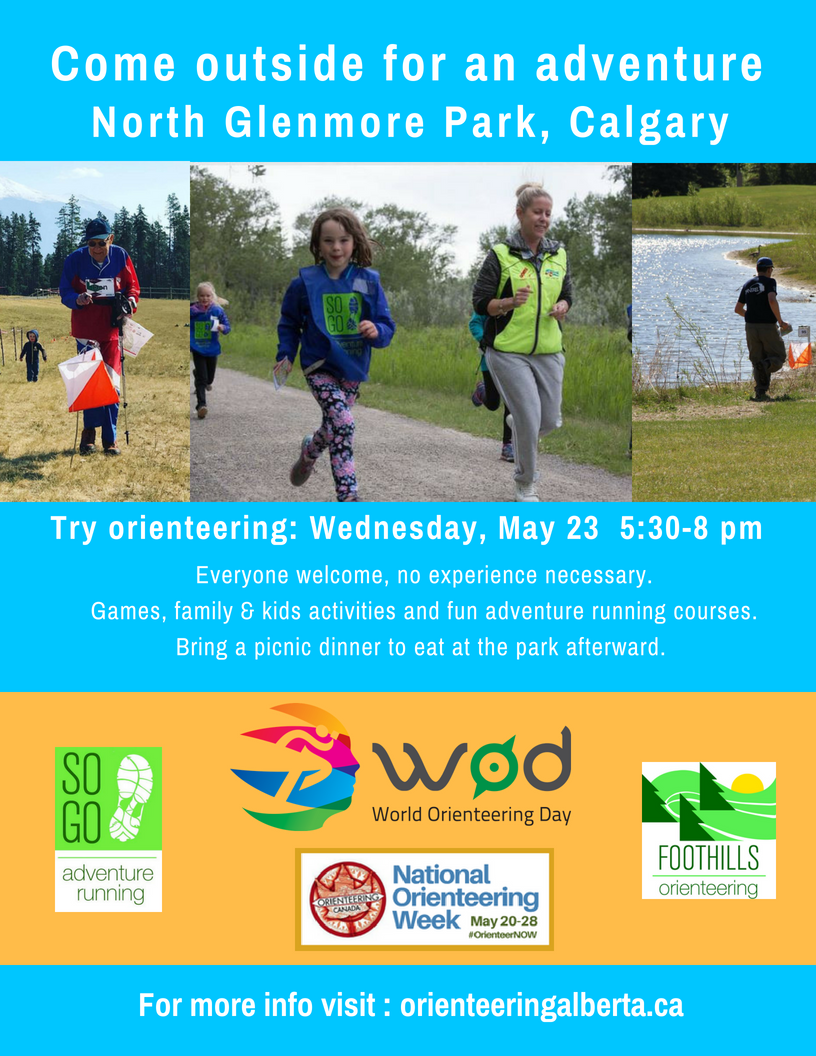 ---
Location
Course Maps
No course maps posted yet.