Nosehill Wednesday #7 Results Wednesday Evening
June 13th 2018 6:30pm - 8:00pm
Course Maps
Advanced - Long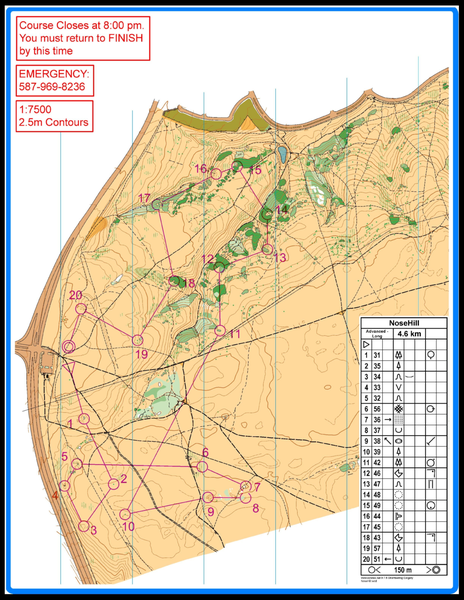 Organizers: Colin Norman (Event Director), Teresa (Controller)
Map: Nose Hill (1:15,000)
Notes from the Course Planner
The Advanced courses have two distinct zones, the first part of the course runs across mostly open land with few topographical features. Compass work will be key to success. Then the route transitions to the hills: here you will be wise to keep track of every copse, thicket and shrub as well as the contours - with well planned route selections the course might not be as hilly as it looks.
The Novice course is slightly harder than typical path-path junctions, but will be a good transition if your little one is ready for the next step. Some controls are off-trail, but with good visibility. There is even some route selection involved.
The mosquitoes are out. Bring bug juice!
Have Fun CN
Pricing

$5.00/map
Purchase a Season Pass online ($50.00, includes all 16 Wednesday night events)
Free for SOGO participants
Volunteer

All participants are required to volunteer for at least one event. You can help us with registration, timing, or control pick up. You don't need to be a veteran orienteer to help out! If you volunteer, you still can race, guaranteed.
To volunteer, please add your name to the Volunteer SIgn-Up page. Thank you for your support!
Membership

All participants must have a 2018 Membership. You can either:
Buy one online before the event
New to our club? You can purchase a one-time trial membership at the event for $5.00.
You may later apply this towards a full membership.
2018 Membership rates:
Adult (Born 1997 or earlier): $20.00
Youth (Born 1998 to 2011): $5.00
Child (Born 2012 or later): FREE with the purchase of an Adult Membership.
FWOC club membership includes membership in the Alberta Orienteering Association (AOA).
Please register here ASAP as maps will be printed on the Monday before the race.
---
Location