SI RESULTS! - Baker Park Try It Event / Members' Timed SI Event Wednesday Evening series
September 9th 2020 6:00pm - 8:00pm
Course Maps
Members Timed (SI) Courses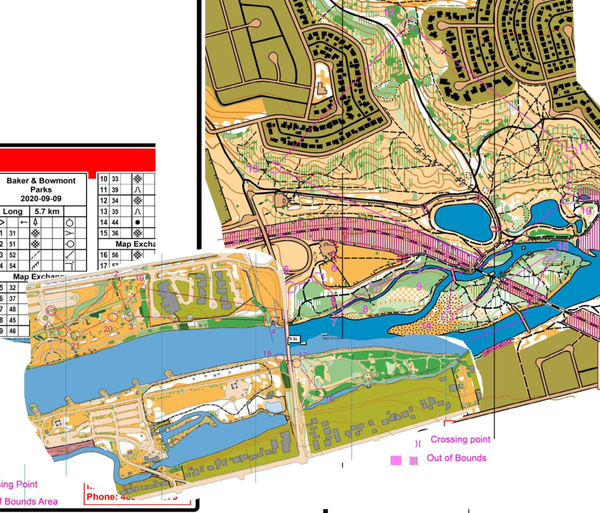 Organizers: Teresa (Course Planner), Bogi Gyorfi (Course Planner)
Map: Bowness Park + Baker Park
Teresa from Foothills Orienteering (FWOC) and Bogi from Alberta Orienteering Association (AOA) have joined forces to offer a introductory event for Calgarians who want to try orienteering and a regular club event for FWOC members. Check back soon for details. You must register in advance. Start/finish is near the parking lot at Baker Park.
If you are a newcomer or beginner or just want a shorter course, you can register for the Try It event now (see details below).
If you are a Foothills Orienteering member you can register for the Intermediate-level timed SI courses following the instructions below.

---
INFORMATION for AOA's TRY IT! event participants

For newcomers and beginners who want to try orienteering we have free sign up and Alberta Orienteering Association one-day memberships available for this event.
Please visit AOA's webpage to sign the AOA waiver (can be done anytime) and submit a health declaration for each attendee (must be done only on the day of the event). You can also find some introduction materials in case you want to learn more.
Note*: For the Waiver and Youth Participant Agreement. If you are a current SOGO program or FWOC member and signed up after July 1st, 2020 you DO NOT need to fill it out as you already did it at the sign-up. Everyone must fill out the Declaration of Health on the day of the activity.
Or just show up at the park and we will have onsite registration available and help you with our step by step process to get started.
For more information about Safety Recommendations and Covid19 Guidelines please visit this webpage: Participants Safety
We hope to see you there. -Bogi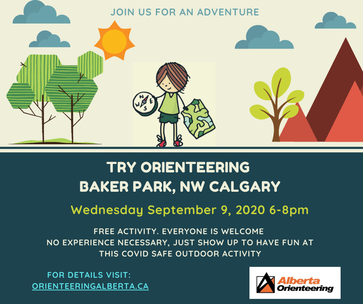 ---
MANDATORY PRE-REGISTRATION INFORMATION for the Foothills Members' Timed SI Courses

We are excited to return to timed SI courses using a modified format due to Covid-19 concerns. You must pre-register for these courses here. No onsite registration or membership signup assistance will be provided. Two timed SI courses are available:
'Intermediate Long' - around 6km with some longer legs with route choice, hills and some street options, you will be able to cut off part of the course if you find its taking you longer than expected.
'Intermediate Short' - around 4km, somewhat easier than the long course, all controls close to trails, no street crossings
Both courses will encompass a mix of terrain, including Baker Park and part of Bowmont Park. You are advised to wear long pants or gaiters to avoid scratches, or choose your route carefully! Members are also welcome to sign up instead for the shorter courses following the instructions for the Try It event above.

Course Notes:

There may be many burrs and thorns in the areas outside of the manicured park land. Please help us avoid complaints from disc golf players in Baker Park and do not cut between a player and the "hole" that they are approaching.
Sign up now:

Here is what you need to do to once per year to participate in any Foothills Orienteering Club event:

Each participant must purchase a 2020 Foothills Orienteering membership (including each member of a family orienteering together).
If you purchased your membership before July 1 2020, submit our new annual online waiver here. If you have submitted the new waiver, you will have received an email from Zone4 with subject "Registration Receipt for FWOC/SOGO Orienteering Canada

Waivers

" or "Registration Receipt for 2020 FWOC Membership (with June 2020 Waiver)

".
Here is what you need to do before SI course registration closes 9am on the day BEFORE the event:
Pre-register for one of the courses using this link. You can view the list of confirmed registrations and SI Numbers for this Fall here.
Here is what you need to do as early as possible on the day of the event (but continue to monitor your health throughout the day and do not attend if you are feeling unwell):
Submit a completed Individual Declaration of Health for each attendee (only valid for the day the form is submitted). You can also find this form on go.orienteeringcalgary.ca.
Read the guidelines for participation in Foothills Orienteering Club Events during pandemic. Important points in these guidelines include:


If you have any COVID-19 symptoms or have had close contact with someone with COVID-19 in the last 14 days, stay home.
Practice physical and social distancing including 2m separation from people not within your family or cohort.
Bring your own supplies including water as none will be provided.
Consider wearing a mask when not out on course.
Eliminate contact with communal surfaces at the start and finish areas.
Do not touch orienteering flags or ribbons.
If using a SI finger stick, place it carefully without touching the unit.
Please be sure to follow basic personal hygiene rules and wash/sanitize your hands before and after being on a course.
Follow the event organizer's event specific rules and measures to reduce the risk of contacting or spreading Covid19.

Prepare to bring your own hand sanitizer to the event and consider wearing a mask when not on course to protect yourself and others. You will not be able to register for SI Courses or purchase Foothills Orienteering memberships at this event. We will provide course maps and SI finger sticks to registrants if you are not able to bring your own. We will have some sanitizing and personal protective equipment for our volunteers to use as needed, but please bring your own sanitizer, mask, water, and any other equipment you feel would be helpful to protect yourself and others.
Remember that everyone sees the risks and rewards of outdoor sport during a pandemic differently, so please err on the side of caution and help ensure that everyone at the event (especially the general public) is comfortable with the measures you are taking to ensure physical distancing and personal hygiene.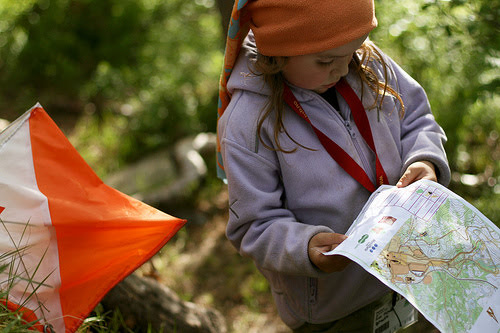 ---
Location