Nose Hill - Brisebois #8 Results Wednesday Evening series
June 16th 2021 6:30pm - 8:00pm
Organizers: Teresa (Event Director), Marsha Fehr (Event Director), Bogi Gyorfi (Organizer)
Map: Nose Hill South - Brisebois
Thank you to all the volunteers: Robin M, and Teresa, Marion, Kitty & Bogi for control setting and pick up! Thanks to Bogi for hosting the Try It session!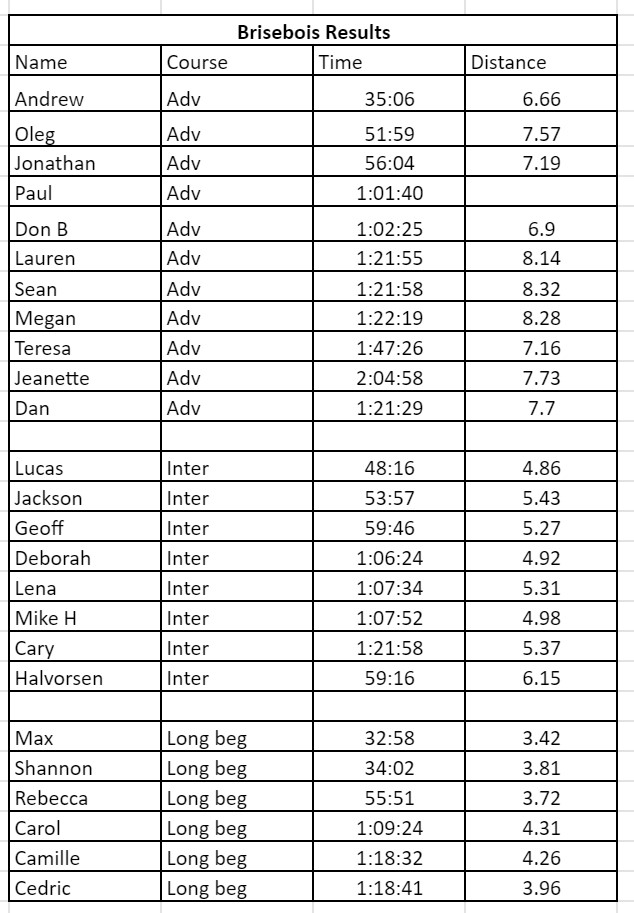 ---
Welcome to the TRY ORIENTEERING - ParticipAction Community Better Challenge!
We are happy to host some exciting opportunities to be active outdoors. This is for families or individuals to try orienteering. Parents must remain with their children and help them through the activities. You need to register (free) and arrive in the selected time frame to get your instruction and maps then you will head out on a self-directed activity, just like a discovery walk/run in the park.
Track your activity with the Participaction Challenge app to help your community to be crowned as the most active in Canada!
Register (TRY ORIENTEERING) here: https://zone4.ca/register.asp?id=26176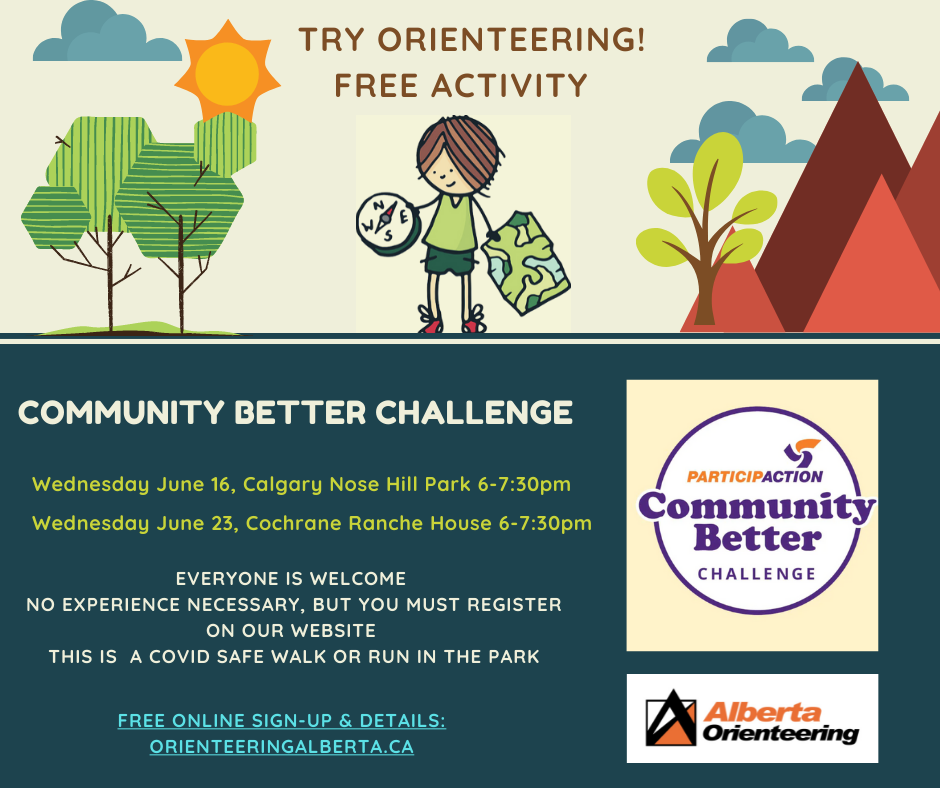 PARKING
Parking at Brisebois is very limited. Please consider parking in the community and crossing on the pedestrian overpass. If you park along Conrad Drive NW close to Conrad Park, you can easily access the green space via a foot path and get to the bridge.
Members info for the event see below.
The Wednesday Event Series runs from the end of April to October 6th, 24 events.
This year, in order to run the Wednesday Event Series safely and smoothly, there are 2 mandatory requirements for all participants:

FWOC membership: You must have a FWOC membership to participate.
Wednesday Event Pass: You must pre-register by purchasing either a Full Season or Half Season pass before attending your first Wednesday event.

You can accomplish BOTH these requirements on the same Zone 4 website "2021 FWOC Membership and Program Registration".


We are not accepting any on-site Wednesday registration because of COVID restrictions. Pre-registration for Wednesday events is mandatory. You must pre-register by purchasing either a half or full season Wednesday pass (link above). We are offering two Half Season Passes: First Half Pass, for April 28 to July 14, 2021 OR Second Half Pass from July 21 to October 5, 2021. If you sign up part way through the season, you have to pay the full cost; we have kept it low for this reason.

Do not purchase a Season Pass for a youth already registered in a SOGO program for 2021, as all SOGO participants receive a complimentary Season Pass.

Full Season Pass: $50 (link above)

This entitles you to a free map at each Wednesday Event April through October (~24 events). Special events will have an additional fee (Solstice BBQ, Spook-O, Forest Events). When you register on Zone 4 (link above), if you are already a 2021 member, click "no" to buy a membership and continue on in the registration form.

Half-Season Pass: $30 (link above)

This entitles you to a free map at each Wednesday Event for half the season (~12 events). You can choose which half you participate in: First Half Pass or Second Half Pass. Special events will have an additional fee (Solstice BBQ, Spook-O, Forest Events). When you register on Zone 4 (link above), if you are already a 2021 member, click "no" to buy a membership and continue on in the registration form.

The Wednesday night events will use a similar format to the winter TNTs:

You can run anytime using the MapRun6 app and course.
There will be pin flags in the terrain for the intermediate/advanced course on the Wednesday from 2 - 8 pm. Do NOT touch the pin flags (or control flags) (as a COVID precaution). You will have a pdf of the map emailed to you if you would like to run between 2 - 6:30 pm.
The Beginners' course will be set up from 6:30 - 8 pm; the organizer or a volunteer will be available to provide an introduction or instruction in orienteering as needed. Maps will be available for pick-up during this time. If you have never orienteered, sign up for the free Try-It event; Try It events will be offered the second, third and fourth Wednesday nights. You must pre-register for the in-person time slot with a limit of 9 people per 20 minutes for both the Try-It event and the regular beginner course.
If you want to run earlier and would like to have a map printed for you, we will try to arrange that with the organizer.
---
Here is what you need to do to participate in any Foothills Orienteering Club event
Once per Year

Each participant must purchase a 2021 Foothills Orienteering membership (including each member of a family orienteering together).
Submit our new annual online waiver here. If you have submitted the new waiver, you will have received an email from Zone4 with subject "Registration Receipt for FWOC/SOGO Orienteering Canada Waivers".
Purchase a half or full season Wednesday pass (described above).
The Tuesday before the event
Sign up in advance for one of the courses; each week, you will be emailed a google doc to complete.
On Wednesday
Here is what you need to do as early as possible on the day of the event (but continue to monitor your health throughout the day and do not attend if you are feeling unwell):
Submit a completed Individual Declaration of Health for each attendee (only valid for the day the form is submitted). You can also find this form on go.orienteeringcalgary.ca.
Read the guidelines for participation in Foothills Orienteering Club Events during pandemic. Important points in these guidelines include:

If you have any COVID-19 symptoms or have had close contact with someone with COVID-19 in the last 14 days, stay home.
Practice physical and social distancing including 2m separation from people not within your family or cohort.
Bring your own supplies including water as none will be provided.
Consider wearing a mask when not out on course.
Eliminate contact with communal surfaces at the start and finish areas.
Do not touch orienteering flags or ribbons.
If using a SI finger stick, place it carefully without touching the unit.
Please be sure to follow basic personal hygiene rules and wash/sanitize your hands before and after being on a course.
Follow the event organizer's event specific rules and measures to reduce the risk of contacting or spreading Covid19.

Prepare to bring your own hand sanitizer to the event and consider wearing a mask when not on course to protect yourself and others. You will not be able to register for SI Courses or purchase Foothills Orienteering memberships at this event. We will provide course maps and SI finger sticks to registrants if you are not able to bring your own. We will have some sanitizing and personal protective equipment for our volunteers to use as needed, but please bring your own sanitizer, mask, water, and any other equipment you feel would be helpful to protect yourself and others.
Remember that everyone sees the risks and rewards of outdoor sport during a pandemic differently, so please err on the side of caution and help ensure that everyone at the event (especially the general public) is comfortable with the measures you are taking to ensure physical distancing and personal hygiene.
---
Location