TNT #2 - New Brighton - Results! Toques & Training series
December 3rd 2021 2:00pm - December 4th 2021 10:00am
Organizers: Geoff Marjoram (Course Planner), Marsha Fehr (Controller)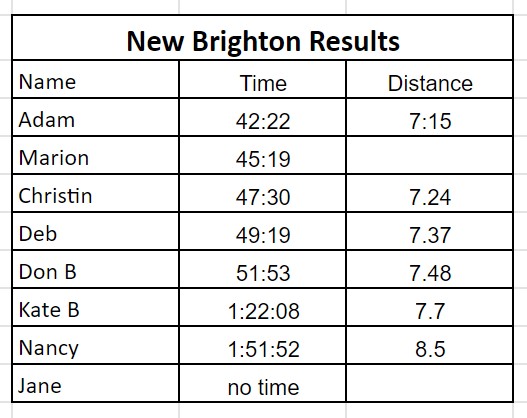 As one participant said, "Thanks to Geoff for getting us to see a new community and for all the cute controls and lots of route choices!"

---
This is the second event of the 2021-22 TNT Series. Geoff is a new course planner, and he will be introducing us to a new neighbourhood! Geoff has planned a fun course taking advantage of the many features in his neighbourhood - don't miss it! Sign up today if you haven't already.
Who can participate?
The series is open to all 2021 FWOC members (which includes all 2021 SOGO participants) and to any orienteer from other Canadian clubs. Proof of current membership will be necessary for non-FWOC members. You will be asked to renew your FWOC membership before the January sessions begin. If you are not a FWOC member already, you can purchase your membership HERE.
COST:
Like last year, the cost is $20 per participant. You are guaranteed 10 events, but we hope to offer more (up to 15).
MAPS:
You print your own map from the PDF that will be sent Wednesday. If you don't have a printer or access to one, we can print a map for you. Contact Marsha.
TIME / DAY:
Every Friday from November 26 to at least Feb 11 (and possibly longer), except Christmas Eve and New Year's Eve
Pin flags will be in the terrain from 2 pm Friday until they are picked up Saturday morning.
SAFETY:
You must not participate and you must stay home if you feel unwell or have any symptoms as defined by Alberta Health authorities.
You must not participate if you have been in close contact with a confirmed or probable case of COVID-19 over the last 14 days.
Please do NOT touch the pin flags.
Wear a headlamp if you plan to run in the evening.
TNTs take place in neighbourhoods and involve crossing streets. Please be mindful of traffic.
TNTs take place in fall and winter when the weather is unpredictable. Organizers will do their best to alert you to any icy areas; however, you should take extra care, especially at night.
REGISTRATION:
Registration is mandatory; it is on Zone 4. Registered participants will get a weekly email (from [email protected]) regarding the exact location each week, the PDF map and the code for Maprun6. No onsite registration or membership signup will be provided.
VOLUNTEERING:
Organizers would welcome volunteers on Saturday morning to pick up ALL the flags. Please contact the organizer before doing that however!
---
Location