Nose Hill @ Berkley Gate - Results! Wednesday Evening series
May 4th 2022 6:30pm - 8:00pm
Organizers: Clarence Kort (Event Director), Bogi Gyorfi (Host)
Map: Nose Hill (1:15,000)
Thank you to course planner, Clarence, and his awesome team of volunteers (Gabi, Bogi, Kitty, Alda, Marsha, and Robin) for a great event on Nose Hill @ Berkley Gate!
---
Things to know:
In-person with control flags and SI units in the terrain from 6:30-8pm on the day of the event.
We will be using SI sticks; you can borrow one on the night of the event if you do not own one.
You will still have to pre-register for the events on our Interpodia registration site.
Please check in on arrival and collect your map and SI stick if you are borrowing one.
Remember to return the SI stick and CHECK OUT so we know you have come back:)
You will need to be a 2022 member of FWOC or another Canadian orienteering club.
We will be using Maprun6 so you can run anytime if you do not want to or can't run on the evening of the event.
---
REGISTER for the Try-It Event below!
People new to orienteering can sign up for the free Try-It event only:

Try-It Event ONLY Registration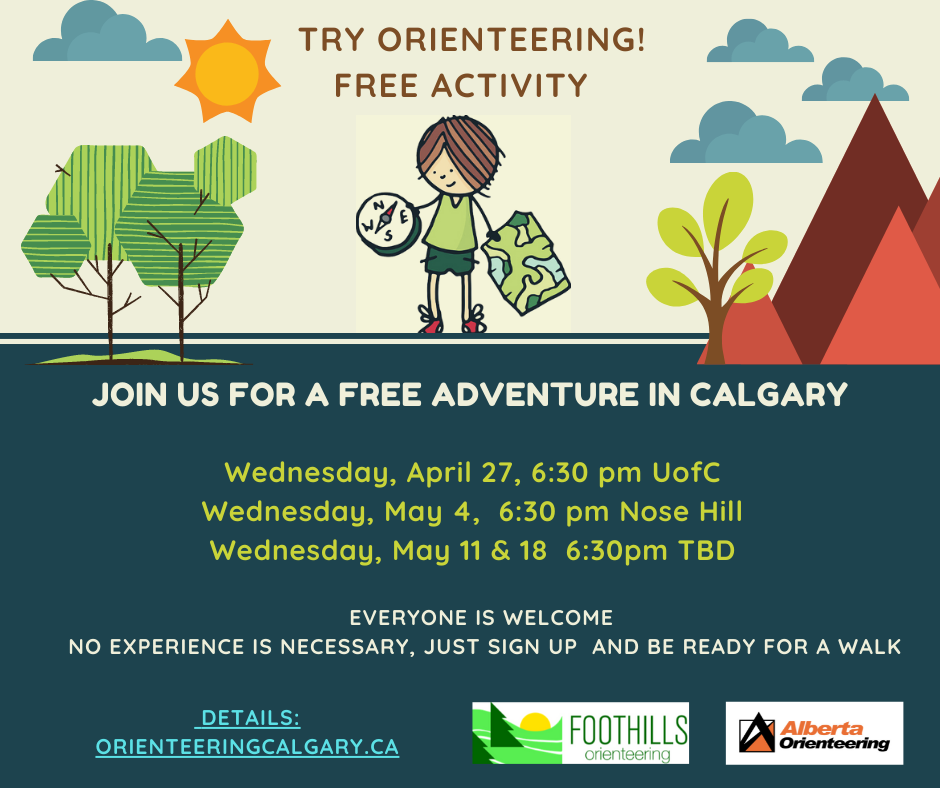 What to expect?

You will receive brief instructions.
You can try a couple of learning activities
You will get a map and head out for a self-lead mapwalk to try a beginner orienteering course. All of this would take around 1 hour.
Why should you try orienteering?
Engages the mind & body with emphasis on fun
Builds competence and confidence to be outside, for life.
Teaches navigation and map reading skills.
Helps to connect with our natural environment.
Gets everyone moving outside with a big smile.
---
Location