TNT #1 - North Haven Toques & Training series
December 6th 2022 6:00pm - December 7th 2022 8:00pm
Organizer: Marion O (Event Director)
Thanks Marion for a fun TNT and some terrific snacks and soup afterwards:) Thanks, too, to Joe who directed our eyes skyward to enjoy the vision of Mars going behind the moon during our runs! Let Marsha know if you did the run and your time, and the results will be modified.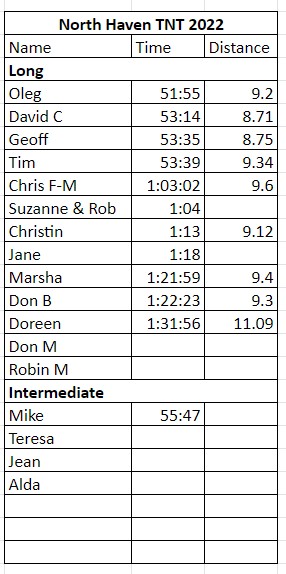 ---
Dec 6th update!

Tomorrow evening there will be a Lunar Occultation! Mars will disappear behind the moon at (I believe!) 8:03 pm and will reappear on the other side an hour later. So if you would like to postpone your run until then, you can see it as you run. Or alternatively, watch it from here!

Here are a couple of links:

https://telusworldofscienceedmonton.ca/explore/exp...

https://scitechdaily.com/dont-miss-lunar-occultati...

Thanks to Joe for the heads up!

Nov 29th update:

All courses will visit several Little Free Libraries - so you might want to Bring a book, Take a book! Especially the short course - 60% of your controls are libraries!

There is still ice everywhere... Do let me know if you are coming for soup (you can reply to my name at the top)

Nov 20th update:
I am planning on doing an event with fixed controls such as fire hydrants, Little Free Libraries and Garbage cans, and was out today to check locations. And I will be offering soup etc on the Wednesday evening after 6 pm.
You must let me know if you are planning to join the social and enjoy some soup
Sunset on Dec 7th will be 4:30 pm so remember a headlamp or flashlight! And do wear bright/reflective clothing! There will be streets to cross.
printed maps will be available in a box on my doorstep after 6 pm on Tuesday, Dec 6th. Bring your own map bag!
the back alleys are quite icy, and who knows what they will be like by December. You can avoid them.
there are 2 marked crossings across John Laurie/McKnight Blvds. One is an overpass, and the other is a pedestrian crossing. Otherwise, John Laurie and McKnight are out of bounds!! The course will not show which to take.
My address will be emailed to those who register.
There will be 3 courses: Long (~6.5k), Intermediate (~4k) and short (~2k). Please indicate which one you would like to do. You MUST have pre-registered on Interpodia in order to get a map. Registration is open now. Sign up here: TNT Registration
There will be no controls set out. You should go close enough to the 'control' to be within a few feet from it.
FWOC is offering TNTs (winter orienteering training) again this year. You must be a member of FWOC (or another Canadian orienteering club - OC Member) to participate. You only have to pay once through Interpodia, and you will be sent participant information each week.
Hope to see lots of you on Dec 7th!
Marion
NEW :
Days of the week. 2022-2023 TNTs will usually run on both Tuesday and Wednesday evening from 6 pm to 8 pm. Pin flags will be set out for the duration of the event. Thus, participants who would prefer to run during the day can run Wednesday morning or afternoon:) NOTE: The organizer has the option of making their event a weekend event.
Social Option. The organizer has the option of hosting a social gathering during the event, usually either Tuesday evening or Wednesday evening. Details for this will be on the webpage and in the email to participants.
Family Pricing Option: To encourage families to participate (especially in this time of increasing costs), FWOC is planning to provide a family pricing option (save 40% for two or more members of a family who live in the same household) for the series of TNTs.
Same as last year:
Cost: $20 / person for the season (or family pricing option for family members in the same household).
You need to register (and pay) in advance on-line. Registration link will be available soon.
The minimum number of events is 10 and we hope to offer up to 15. You can participate in as many as you like. Even if you only get to 5 events, it's a pretty good deal!
All events will be put on Maprun6 so you can go any day after the start of the event (up to a year).
The location, PDF of the map, and maprun6 details will be sent via email to all registered participants.
If you need a map printed for you, please let us know.
---
Location
Course Maps
No course maps posted yet.