TNT #3 - Dalhousie Results Toques & Training series
December 20th 2022 7:00am - December 21st 2022 10:00pm
Organizer: Jen Silverthorn (Event Director)
Thanks Jen for planning the Dalhousie TNT! As the controls are Little Libraries, you can still run the course. The bitter weather put off some participants, but we had some die-hards who made it out!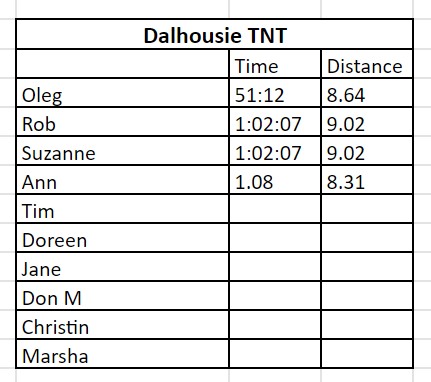 ---
FWOC is offering TNTs (winter orienteering training) again this year. You must be a member of FWOC (or another Canadian orienteering club - OC Member) to participate.
We are excited to host you in the beautiful community of Dalhousie. There are several rear pathways accessibly on foot which makes for fun route options when orienteering. As the controls are permanent Little Libraries, you will be able to attend this event any time on Tuesday or Wednesday.
Tuesday night social: The social component has been cancelled due to cold temperatires and will be postponed to a future TNT.
NEW :
Family Pricing Option: To encourage families to participate (especially in this time of increasing costs), FWOC has decided to provide a family pricing option (for two or more members of a family who live in the same household) for the series of TNTs. This pricing option is still being configured in Interpodia. Stay tuned.
Same as last year:
You need to register (and pay) in advance on-line. Registration link will be available soon.
The minimum number of events is 10 and we hope to offer up to 15. You can participate in as many as you like. Even if you only get to 5 events, it's a pretty good deal!
All events will be put on Maprun6 so you can go any day after the start of the event (up to a year).
The location, PDF of the map, and maprun6 details along with start address and event organizer's contact will be sent via email to all registered participants.
If you need a map printed for you, please let us know.
---
Location