TNT #8 - Varsity Results Toques & Training series
January 24th 2023 6:00pm - January 25th 2023 8:00pm
Organizer: Don Bayly (Event Director)
Thank you to Don B for a fun course:)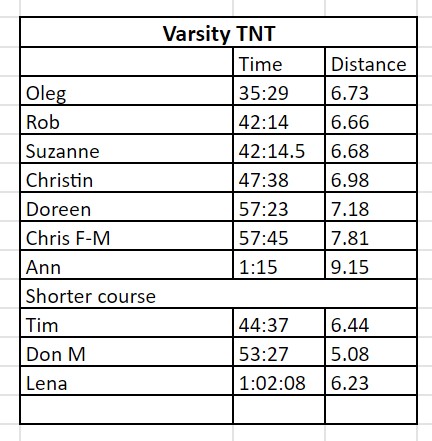 ---
Varsity Fire Hydrant O, Tuesday Jan. 24 to Wednesday Jan. 25
START: The start is at the west end of Blakiston Park, close to the Brentwood C-Train Station. So, you could travel to the event by C-Train.
Parking: There is free parking along Blakiston Drive NW. A two hour time limit applies between 7 AM and 5 PM. Also there are a few loading zones to avoid.
Control markers: The start, finish and all controls are fire hydrants. It's a regular point to point course with 10 controls. Straight line distance is 5.0 km.
Course NOTES:

The course goes through the University Research Park, the Varsity residential area and some small parks.

It's a NEW map at a scale of 1:10,000. Terrain is fairly flat. The map does not classify vegetation. It will not have contours but will use a hill shaded background image to show the small terrain features.

Most sidewalks beside streets are not shown. Pathways and back alleys are shown.

Fences with crossing points are mapped where it is important for route choices.
On the first leg, the course planner recommends crossing Crowchild Trail by the C-Train bridge. Theoretically you could take Brisebois Drive under Crowchild Trail, but that involves a couple of busy road crossings and a possible wait at a traffic light.
There are numerous road crossings throughout the course, some on quiet streets, some with obvious crosswalks, and there is a four way stop intersection.

FINISH: The finish is about 250m SE of the C-Train bridge.
SOCIAL: No social is planned. (But have you tried Wami Ootoya Japanese Cuisine in the University City Yellow building?)
I will post an update on the snow and ice conditions closer to the event.
---
FWOC is offering TNTs (winter orienteering training) again this year. You must be a member of FWOC (or another Canadian orienteering club - OC Member) to participate.

NEW :
Days of the week. 2022-2023 TNTs will usually run on both Tuesday and Wednesday evening from 6 pm to 8 pm. Pin flags will be set out for the duration of the event. Thus, participants who would prefer to run during the day can run Wednesday morning or afternoon:) NOTE: The organizer has the option of making their event a weekend event.
Social Option. The organizer has the option of hosting a social gathering during the event, usually either Tuesday evening or Wednesday evening. Details for this will be on the webpage and in the email to participants.
Family Pricing Option: To encourage families to participate (especially in this time of increasing costs), FWOC has decided to provide a family pricing option (for two or more members of a family who live in the same household) for the series of TNTs. This pricing option is still being configured in Interpodia. Stay tuned.
Same as last year:
You need to register (and pay) in advance on-line. Registration link will be available soon.
The minimum number of events is 10 and we hope to offer up to 15. You can participate in as many as you like. Even if you only get to 5 events, it's a pretty good deal!
All events will be put on Maprun6 so you can go any day after the start of the event (up to a year).
The location, PDF of the map, and maprun6 details will be sent via email to all registered participants.
If you need a map printed for you, please let us know.
---
Location