TNT #13 - New Brighton Results Toques & Training series
February 28th 2023 6:00pm - March 1st 2023 8:00pm
Organizer: Geoff Marjoram (Event Director)
Thank you to Geoff for a very fun Word-O!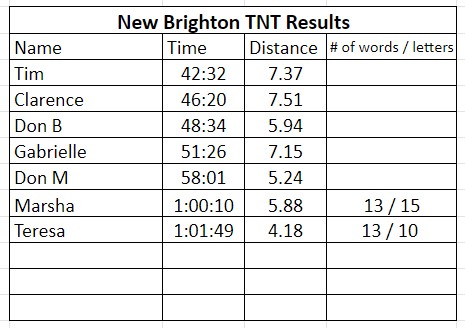 A little hard to calculate results; Teresa managed the most words with the least amount of distance demonstrating excellent route planning!
---
I have created an entirely new method of orienteering, combining orienteering with a word game and spelling. I call it Word-O.
The Rules of Word-O:
There are 23 Lettered Controls (all the letters except for Q, X and Z). You can collect controls in any order you want. Fastest time to collect all controls and return to the finish is the Winner! Simple.
HOWEVER:
For every 3- or 4-letter word you spell using consecutive control letters, you may skip 1 control. (ie. if you spell 5 words, then you only need to get 18 controls instead of all 23).
For 3 or 4 letters that you collect in a row, you can rearrange the order of those letters to spell your word, provided that you did not get any other control in between those 3 or 4 letters. (i.e. if you get control "A", then "C", then "T", that is rearranged to spells CAT)
Letters can be used in more that 1 word.
Only English words. (To be fair to everyone, if you are not a Native English speaker, you can choose to play the game in the language of your choice instead. But the design of the course may not be conducive to you)
You can't just add a "S" to pluralize a 3 letter words and then also score it as a 4 letter word. (ie. If you spelt CAR, you can't just get a S and spell CARS also. That still only counts as 1 word spelled)
Example
Rebecca collects 16 controls in the following order: W-D-I-R-T-E-M-N-A-J-V-G-L-O-K-C
She spelt 7 words: Dirt, Tire, Rite, Men, Man, Lock, Log.
Since she spelt 7 words, that means she can skip 7 controls and go straight to the finish. (In this case, she skips B, F, H, P, S, U, and Y)
Course and Safety Notes:
Start and Finish are located at the Bumble Bee. https://goo.gl/maps/6kXbJ8F1gC8YEviD8. There is lots of street parking.
There are no flagged controls. All controls are permanent fixtures such as benches, garbage cans, etc. The Control Description will be written in text.
All water and ponds marked in Blue on the map are off limits. It looks frozen, but don't be an idiot.
Roads and Pathways may be icy.
I don't have a printer. Please print your own map.
You may want to bring a pen / highlighter with you help plot your route and make notes.
Geoff
-----------
FWOC is offering TNTs (winter orienteering training) again this year. You must be a member of FWOC (or another Canadian orienteering club - OC Member) to participate.
NEW :
Days of the week. 2022-2023 TNTs will usually run on both Tuesday and Wednesday evening from 6 pm to 8 pm. Pin flags will be set out for the duration of the event. Thus, participants who would prefer to run during the day can run Wednesday morning or afternoon:) NOTE: The organizer has the option of making their event a weekend event.
Social Option. The organizer has the option of hosting a social gathering during the event, usually either Tuesday evening or Wednesday evening. Details for this will be on the webpage and in the email to participants.
Family Pricing Option: To encourage families to participate (especially in this time of increasing costs), FWOC has decided to provide a family pricing option (for two or more members of a family who live in the same household) for the series of TNTs. This pricing option is still being configured in Interpodia. Stay tuned.
Same as last year:
You need to register (and pay) in advance on-line. Registration link will be available soon.
The minimum number of events is 10 and we hope to offer up to 15. You can participate in as many as you like. Even if you only get to 5 events, it's a pretty good deal!
All events will be put on Maprun6 so you can go any day after the start of the event (up to a year).
The location, PDF of the map, and maprun6 details will be sent via email to all registered participants.
If you need a map printed for you, please let us know.
---
Location