Moose Creek Map information
Statistics
| | |
| --- | --- |
| Scale | 1:15,000 |
| Map standard | ISOM2000 |
| Events on map | 5 |
---
Notes
April 2023: more areas of active and recent logging have not been mapped. Many of the white areas area now overgrown and difficult to see the detailed contour lines that were mapped. Most areas should be considered at least slow running and often with undergrowth. Difficult to find much runnable terrain on the map for a 3 or 4 course event in 2023.
North part of map is logged with approximate area added by TW April 2 2019.
Click on the map image below to view the full map.

---
Map image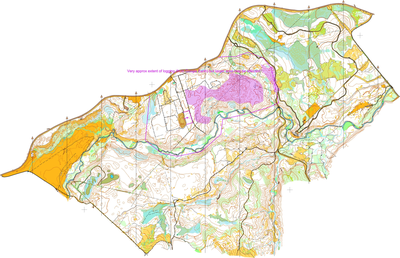 ---
Events on this map
| | |
| --- | --- |
| Advanced Orienteering Training - Moose Creek (TRAIN) | Jun 12, 2016 |
| Forest Training for Intermediate to Advanced Orienteers (TRAIN) | Apr 30, 2017 |
| Forest Training 2019 (TRAIN) | Jul 28, 2019 |
| WCOC Training Course Opens - Moose Creek, Kananaskis, Alberta | Nov 1, 2019 |
| POSTPONED - Moose Creek Meet & TCP Fundraiser (FRST) | May 27, 2023 |
Location