Fish Creek - Bow Valley Ranche Map information
Statistics
| | |
| --- | --- |
| Scale | 1:5,000 |
| Map standard | ISOM2000 |
| Events on map | 5 |
---
Notes
To be expanded, to include Hull Woods. Previous map exists, of a larger area.
Note: our permit usually prohibits guiding activities around the Bow Valley Ranche commercial operations. As shown below, the bottom right corner of the map now shows the trails leading from the NW corner of Hull's Wood parking lot.
The Fish Creek River on this map is shown with an unpassable boundary due to slippery/dangerous conditions throughout most of the year.
Fenced closed areas are mapped as out of bounds. Some old trail closure signs can also be found in rehabilitated areas where the old trail is not very visible. These closed trails and signs are not included on the map, but please respect all trail closure signs.
---
Map image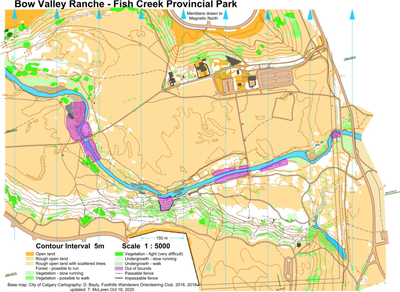 ---
Events on this map
| | |
| --- | --- |
| Spring SOGO Fun Run (SOGO) | Jun 4, 2017 |
| Sunday AM Fall Series Event #4 - Fish Creek Ranche - Middle Club Championships (FSURS) | Oct 28, 2018 |
| RESULTS & Route Distances - Fish Creek Park Hull's Wood: Timed Courses plus SOGO Youth Try-It Event | Oct 25, 2020 |
| Hull's Wood - #18 (WED) | Aug 25, 2021 |
| RESULTS! Fish Creek - Bow Valley Ranch # 20 (WED) | Sep 21, 2022 |
Location