RESULTS University of Calgary / Garlic Gone Fall Sprint Series
November 20th 2016 10:00am - 12:00pm
Course Maps
Blue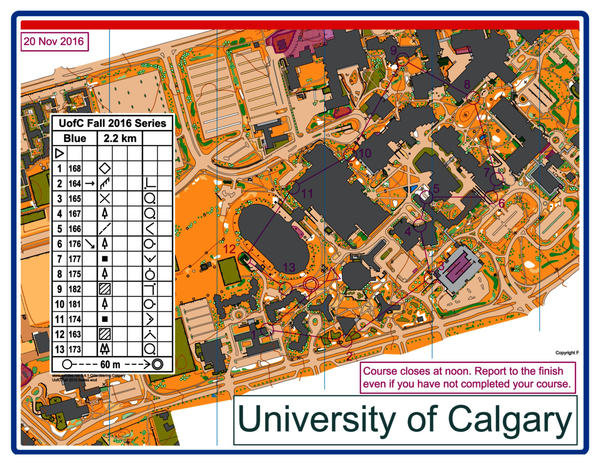 Black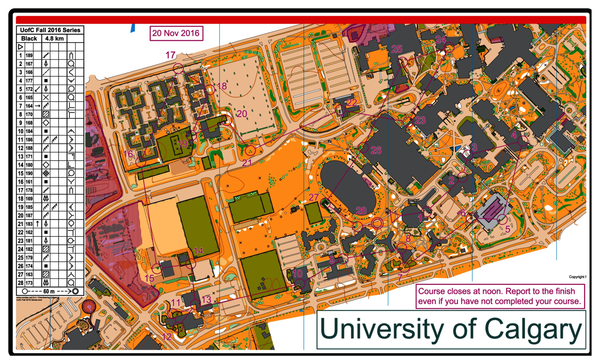 Organizers: Teresa (Event Director), Marsha Fehr (Event Director)
This is the ninth event of the Fall Urban Race Series FURS - a 10 week series of (mostly) urban races with expertly set courses. You will earn a handicap ready for the Final Showdown at the last and 10th race in the series.
Sign-up for a map under Course Registration - please sign up even if you think you just might come (there is no penalty for not showing up)
Sign-up to volunteer for any one of the series races on the sign-up sheet (We NEED volunteers to put events like this on)
Where: University of Calgary
When
Start: 10am to 11am
Course Closure: 12pm
Who: Open to FWOC club members. Sign-up online for a membership (valid to end 2017).
Cost: Drop-in fee $10 for an adult or $5 for a youth 20yrs and under.
For UPDATED standings check:
https://drive.google.com/open?id=1REsAPoxHhxQtv8_XCYXYtQJsOpD9GiUjH0PrBNJEfgU
For more details on scoring and other stuff:
https://docs.google.com/document/d/14B9JCfklaVLsrre4p5FAOTGUcfovwPrhNcZri7W4igI/edit#
---
---
Location